Think there is only one wear to wear an Aran sweater? Then, think again. The great thing about winter is the chance to liven up the traditional woolly jumper and there are loads of ways you can achieve this. Here are some fun things to try:
The Casual Look
Aran can be worn as a sweater or cardigan and the perfect laid back weekend winter weekend look is to combine an Aran cardigan with classic blue jeans. Whether skinny or boyfriend jeans, with a t-shirt or blouse underneath, you can't go wrong with this combination for chilly winter days. For Aran Sweaters, visit Shamrock Gift, suppliers of Original Aran Sweaters.
Plaid
This is an extremely versatile look that has been adopted by various trends over the years including the preppy look, punk and grunge. If you want to liven up your Aran with a more rebellious vibe, choose plaid skirt or trousers for some understated edginess to your look. A plaid shirt under a cream Aran sweater also looks dramatic.
Accessories
To bring a contemporary twist to a classic style, accessorise your Aran outfit with modern textures in your accessories, like belts, handbags, boots or shades, for example.
Evening
You might not think of Aran straightaway for your evening attire, but you'd be surprised. A cute Aran jumper teamed up with a long flowing skirt provides an elegant and unique outfit for informal or formal occasions alike.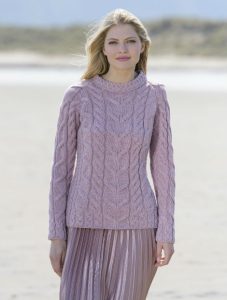 Leggings
You might not have seen them yet, but leggings are available in cable knit. For the ultimate in winter warmth, lounging around the house has never felt so luxurious and indulgent!